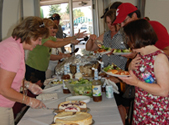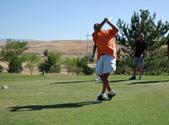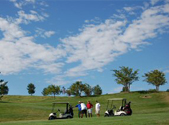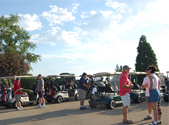 2013 IAC GOLF TOURNAMENT SUCCESS!
08|24|13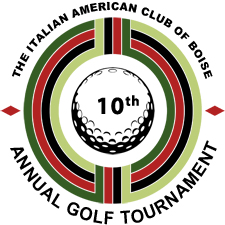 This past weekend was the 10th annual Italian American Club Golf Tournament held for the 2nd year at Eagle Hills Golf Course and once again it was a HUGE success! We had a great turnout, beautiful weather (hardly any smoke), the food provided by Papa Joes was delicious.all to have a good time while helping to raise money for The Idaho Foodbank. It was a great day to be out on the greens!

THANK YOU to all that particpated: players, volunteers, and sponsors. The tournament's success stems from your efforts. Special Thanks to PAPA JOES, IAC Golf Committee and volunteer Club Members, inparticular SALLY GUITERREZ AND JOE DE CHRISTEFERO,for their leadership and tournament coordination.
Team Winners
Tournament 1st Place:
Chad Scalise, Andrew Warreen, Josh Archibald,
Mark Moore
(The two gentlemen on the outisde graciously filled in for the 1st place photo, since the other two team mates had already left - there's a lesson in that...)

Tournament 2nd Place:
David Mackley, Robert Wurster, Joe Jana, Phil Myher




Tournament 3rd Place:
Frank Coprivnicar, Randy Raedlein, Ken Johnson, Lee Dawson

Ladies 1st Place:
Loretta Hopkins, Jene Cariaga, Lori Kamppi, Linda Aganon

Ladies 1st Place:
Kendra Anderson, Lois Bussey, Terry Selekof, Kayln Talbot
2013 IAC 10th Annual Golf Tournament!
The tournament will be held at the Eagle Hills Golf Course in Eagle, Idaho
Saturday, August 24th

We would like to invite you to participate in our 10th Annual Italian American Club Golf Tournament to be held at the Eagle Hills Golf Course.  This popular charity event, that supports the Idaho Foodbank and the IAC Heritage Fund, has been well attended and has grown every year. Golfers of all abilities come together for a day of golf, good food, charity, and Italian culture!
We are looking forward to your participation this year.  We have kept our costs to the golfer at a minimum so more people are able to participate.  If you or your organization would like to put together a team, new golfers are always welcomed.  Click for the attached form for hole sponsorship and to register to play.

We say "Grazie" for your support and participation.  We look forward to hearing from you. 

Please contact the following Golf Committee members for more information:
Joe DeChristefero at 229-1948
George Guiterrez at 229-0095
TOURNAMENT DETAILS AND FORMS
Saturday, August 24, 2013 EAGLE HILLS GOLF COURSE
7:30 AM Italian Breakfast & Registration
8:30 AM SHOTGUN START
1:00 PM Post Function Meal, Raffle, Auction & Awards Presentations
Entry Fees:
Per Golfer $85
Foursome $340
Foursome + Hole Sponsor $440
Includes breakfast, greens fee, cart, Drink coupons, and lunch
Sponsorships:
Premier Tournament Sponsorship $1000 Includes foursome with custom flag for your business Hole Sponsorship $100 Includes Hole sponsorship sign for your business

What Your Entry Fee Buys:
Breakfast - Catered by the Italian American Club
Bonaminio's Italian Sausage Sandwich
Bloody Mary, juice and coffee
Greens Fee including Cart (tax incl.)
2 Drink coupons on the course
Bucket of Practice balls before

Lunch - Catered by PAPA JOE'S
which will be an Italian catered meal
Non-golfing guest are welcome for the post-tournament lunch for $15.00
Competitions for:
Hole in One
Longest Drive - Men's and Woment's
Closest to the Pin - Men's and Women's
1st, 2nd, and 3rd place team prize money
Sign up Forms and Payment Options
2013 IAC Golf Tournament Registration and Sponsorship form
links below :
Currently forms are only available to be printed off and sent
in by mail or email. Please remember to fill out and submit your
registration form. Grazie'

2013 IAC Golf Tournament Registration Form
2013 IAC Golf Tournament Sponsorship Form
Our tournament is not only about having fun, but more importantly about helping those who are less fortunate. Your donation of 3 food items will help us to help other.

The Idaho Foodbank is a registered non-profit organization, which makes your donation tax deductible.
JOIN THE IAC FOR A GOOD CAUSE AND BECOME A SPONSOR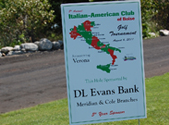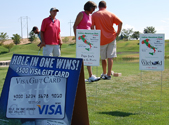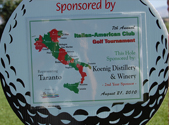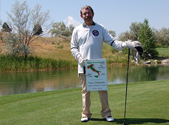 Last year we expanded our hole sponsorship to 26 businesses and individuals. Due to the overwhelming demand we have expanded our hole sponsorships to 36 spots for the event.

New sponsorship levels, in addition to our individual hole sponsorships we have added 5 corporate tournament sponsorships. Corporate sponsorship for this event gives you and your firm the opportunity to reach over 140 golfing enthusiast, volunteers and other sponsors as well as showcase your products or services.

Corporate sponsors receive a complementary foursome including breakfast and lunch for the players, first choice of hole sponsorship location, a twelve foot banner prominently displayed and a display area to showcase your products or services. Corporate sponsorships are $1,000 and limited on a first come first serve basis.

Our individual hole sponsorships are $100 and your hole sponsorship will be marked with your company logo and information on signage at the tee. You will also receive a commemorative plaque for you to display at your business.