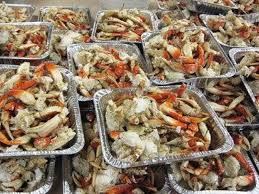 COOKING CLASS FEATURING CRAB THIS MONTH April 21, 2018 10am
Odd Fellows Hall 600 N Curtis Rd Boise
Always wanted to serve crab at home?
This month's featured cook is Paul Zelus. He will be preparingafew simple to make crab dishes with helper Catherine Carter-Goldston. You will practice getting crab out of the shell & help with preparations. Lunch will include samplings of several dishes, featuring crab salad,
crab pasta, and crab cakes and of course salad, bread & dessert.
Beverages will also be served.

If you want to buy frozen crab to take home, we will have some
for sale. The cost for about 1½ pounds of crab will be $10. When
you call to say you are coming, let us know you want to purchase
crab & we will bring it to class. If you are not coming to cooking
class and want to purchase crab, you can. Just let us know and
you can pick it up that morning at 9 AM.

Cost is $20 for members & $25 for non-members.
Please call Paul at 208-440 4047 to sign up!